Anlagenbau für Molkereien, Brauereien und Mineralwasserbetriebe
A Team of specialists in process engineering: LP Project Service provides turn-key solutions for Production Plants in the food and beverage industry (Breweries, Dairies and mineralwater plants). We are specialized in the realisation of production plants in the food and beverage industry for more than 20 years – a guarantee for a successful realisation of your project.
Complete Projects in one hand
Regardless whether you plan a green-field project, a reconstruction, an extension or automation: LP Project Service provides Full-Service in all phases of a project. From engineering and project managment up to supply of components and installation: Our team of process engineers, hard- and software engineers and site managers implement process technology to the best according to your requirements and expectations.
Plant engineering world-wide with our network of partners
Production plants world-wide: Construction of process plants international. Our big network of partners world-wide enable us to realize production plants at any place – with our experienced installation team (national) as well as in co-operation with local installation companies (international)
Plant engineering für Dairies, Breweries, Mineralwater plants
From engineering and supply up to installation and automation
Extension of existing plants
Quality management and highest Quality standards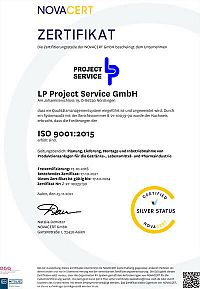 Quality is the best Marketing: Our demand is the highest Level of Quality at our range of services – in terms of Consultancy, Engineering, machinery and components as well as the workmanship of installation. Our Qualitymanagement-System ISO 9001:2015 povides an optimal Workflow and a professional realisation in cooperation with our customers. In additon we improve the level of our Quality standards permanently in order to provide always an optimum of quality for taylor-made projects of our customers. Following you may re-check our certificates and documents.
Statement of our customers
Von der Beratung bis zur Planung konnte uns LPPS erfolgreich beim Bau unserer Molkereianlage unterstützen. Wir empfehlen LPPS sehr gerne weiter.
Interested?
Do you have questions to our field of business and to our industrial specializing?